CONTENTS / SITE MAP
This link goes to my colleague Anne Fielding's Web site where you can read this short explanation by Eli Siegel. It was given in an interview with Lewis Nichols of the New York Times Book Review. It begins, "Aesthetic Realism sees the world and a person or self as an aesthetic situation. It also sees the various sciences and arts as aesthetic situations: painting, the drama, chemistry, geology have something in common. The question then is, what is an aesthetic situation?" ... Click here to continue "Aesthetic Realism; or, Is a Person an Aesthetic Situation? >>
I teach the flute in my studio. For more information, click here >>
From coast to coast, marriages are suffering because of the failed economy. Women are speaking like this wife of twenty-five years, whose husband lost his job; she is quoted in an article in New York Newsday: "We fight all the time now" ... Click here to continue >>
A wife wrote in her diary January 15, 1869: "[My husband] told me during the evening that he loved me above all else in the world, and these words made me immeasurably happy"....Wives have longed to hear these words from their husbands --"I love you above all else in the world" and have felt they represent the warmth, the passion they need in what they see as an uncaring world. And then there comes to be increasing coldness, distrust of each other, and pain. The question is why?

... Click here to continue >>
There is a form of despair in students that has grown alarmingly in the last years: teenage suicide. Programs have been instituted in schools to teach students and teachers how to recognize the signs of a child thinking of suicide: listlessness, grades dropping, lack of interest, sudden angers, more and more isolation. "Specialists agree," reports the New York Times (March 14, 1984), "that no single theory can account for all suicides and no single measure can prevent them."

This is not true. Eli Siegel has described what talks place in a person who wants to kill himself. He wrote in The Right of Aesthetic Realism to Be Known, no. 229 ... Click here to continue reading how Aesthetic Realism sees suicide in a young person >>
In these definitive principles, Eli Siegel, the greatest educator in history, gave teachers the method, so urgently needed, to enable students to learn successfully and to replace prejudice with knowledge and good will: (1) "The purpose of education is to like the world" (Self and World, p. 5). (2) Contempt — "the lessening of what is different from oneself as a means of self-increase as one sees it" — is the greatest interference to learning and the fundamental cause of all injustice. (3) "The world, art, and self explain each other: each is the aesthetic oneness of opposites"... Click here to continue >>
"We heard a report on CBS News Sunday Morning about what is happening to over 500 people who are going to be losing good paying jobs at the Kellogg cereal South Plant there in Battle Creek...."
And I want you to know this important article about an economic situation affecting millions of husbands and wives:
"Siegel described what the indicators of a real recovery are: 'If there is a recovery, everyone will see it, not just a few economists more pleased than they should be, perhaps, with what the basis of economics has been. If persons who rent apartments, buy groceries, buy clothes, see the recovery so much talked about, these persons will be convincing....Recovery begins in the kitchen, is expressed in the bedroom, is agreed to in the street.'" ... Click here to continue >>
Larry Kranz Flute Pages: A major online resource for flutists, which includes numerous relevant links.
National Flute Association (United States)
Flute Resources in France in "Liste des Top-sites musicaux"
The Flute Society of New South Wales, Australia
The Flute Network, San Bernadino, California
A non-profit educational corporation which is now in its 21st year of serving flutists, flute teachers, and the people who love them.
Belgian Flute Pages: Many informative links in Europe and beyond.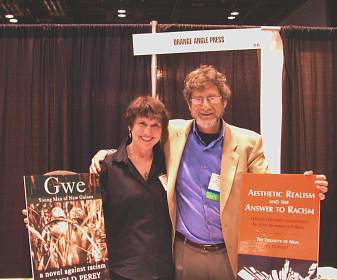 Barbara Allen and husband Dr. Arnold Perey at the American Library Association
meeting in Chicago, IL where three new books (two shown here) were
made public: Gwe: Young Man of New Guinea--a novel against racism, by Dr. Perey,
Aesthetic Realism and the Answer to Racism, edited and co-authored by Alice Bernstein,
and Were They Equal? a traditional African tale against prejudice with Tortoise,
Elephant, & Hippopotamus, as told and illustrated by Dr. Perey